Home remodeling and modifications can help you create the home that suits your life
Having a home that is easier to live in and more enjoyable is possible with home remodeling and modifications. This home accessibility service is available in the Davenport and Quad Cities area.
Home remodeling and modifications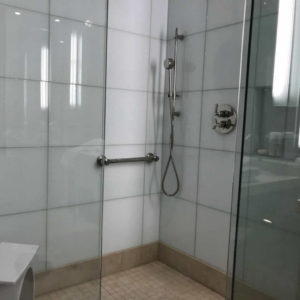 At Home Transitions Solutions Group, we can help you get any part of your home modified or remodeled. What follows is a list of some of the most common home remodeling and modifications we recommend. However, each person and their home is different. So, what your home will need can be assessed and planned, accordingly.
Bathroom remodeling
Accessible bathrooms are on of the most asked for and commonly recommended home remodeling projects for our clients. The right bathroom design and features requires experience and knowledge to be done correctly.
Our years of experience in assessing a person's needs and accessibility allows us to create bathrooms that are easier to use and more safe. It is effective whether you are an older adult aging in place, someone who is moving to improve their lifestyle, downsizing or a person living with a wheelchair.
At Home Transition Solutions Group, we understand the requirements of the American's with Disabilities Act (ADA) for accessible bathrooms and bathroom remodeling. We will use the ADA guidelines, Universal Design as well as our years of experience to create a bathroom that is customized for your needs.
We will combine an accessible bathroom design with the features and modifications that make your life easier. As well as, help prevent falls or other accidents that can put your life and lifestyle at risk. This focus on accessibility and safety removes elements that can cause an accident.
A better bathroom … for everyone
Here are just some of the features your ADA residential bathroom or accessible bathroom could have:
ADA bathroom layout
No-step, walk-in or wheelchair accessible shower
Comfort-height toilet
Roll-under sink or ADA bathroom sink (sit-down vanity)
Water pressure and anti-scald devices
ADA bathroom grab bars
Lever door handles, lever-handled faucets and shower controls
Secondary and/or adjustable or Hand-held shower heads
Built-in shower seats, shower transfer seats
With our home remodeling and accessible design process, you will get an understanding of the best options for your bathroom. Throughout the experience, you will learn about the accessibility features, as well as how it looks once it is completed. Our team will help you from the start to choosing the right contractor to the finished bathroom remodeling project.
» Call 563-449-2855 to speak with an home accessibility pro
Kitchen remodeling
An accessible kitchen can change your life. By focusing on accessible kitchen design, you can turn your existing kitchen into one that is easier to use and more safe for everyone. It can become a place you'll love to spend time in as you care for yourself or your family.
A person's ability to care for themselves and their family is directly related to their well-being. Performing these activities of daily living in your kitchen are core to a person's independence and life satisfaction.
Accessible kitchen design
We focus on melding Universal Design, accessibility and ADA kitchen requirements, so you can have the kitchen that gives you the functionality you need.
This includes general kitchen remodeling for an accessible kitchen, as well as for wheelchair accessible kitchens.
Below are just a few of the features your accessible kitchen could have:
Touch or lever-handled faucets
Multi-level counters with sit-down work areas
Open kitchen, more space
Easily accessible storage, pantry
Wheelchair accessible kitchen island or island seating
Sit-down kitchen sink or wheelchair accessible sink
Task lighting, additional lighting
Pull-down shelves (or roll-out shelves) or wheelchair accessible kitchen cabinets (ADA compliant kitchen cabinets)
Universal Design appliances
If you live in Davenport, IA or the Quad Cities area, we can help you create a fully accessible kitchen.
Home additions
Home additions are a great options for people taking care of their parents or who would like to add a larger, feature-rich bedroom onto their home.
A home addition is a great solution to help you create a fully accessible master suite. This new room can include a larger bedroom (with more open space), an accessible bathroom, a large walk-in closet and more storage area.
Some features available in a home addition could include:
Larger room with more open space
Wider hallways and doors
Barrier-free entrances and transitions
More storage space
Barrier-free shower or roll-in shower
Sit-down (or wheelchair accessible) counters and vanities
Grab bars
Handheld shower heads
» Contact us today about your home

Home exterior
An accessible home will include features that make getting into your home easier and more safe. Just like your bathroom or kitchen design, it will have features to help protect you from accidents.
Home Transition Solutions Group can help you identify the home improvement to be done on the exterior of your home, so it works for you and is easier to maintain.
For the exterior of your home, we focus on specific areas or features. This includes getting from your driveway to your home, then into your home. Specifically, we help create barrier-free walkways and transitions into your home.
Also, we can help identify home renovations that can help you maintain the outside of your home and improve accessibility. That includes:
Walkways
Exterior lighting (sidewalks, paths, ramps)
Ramp installation (modular, wooden)
Barrier-free walkways
Vertical platform lifts
Easier to maintain finishes and features
After talking with you and seeing your home, we will be able to recommend  changes to the outside of your home that will provide greater accessibility, improve safety and help reduce upkeep.
Easier home remodeling
We've been helping our neighbors in the Davenport and greater Quad Cities area remodel their homes so they can continue to live healthy, happy lives. We reduce the stress of not being able to do the things you need to do in daily life.
Our caring accessible home team can make it happen for you, too.