Our lives change, but our homes don't!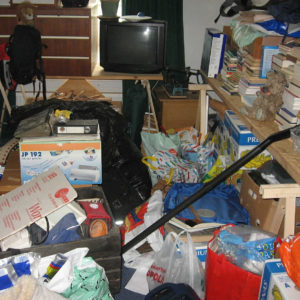 Our decluttering services get and keep your home in tip-top shape.
We do more than just give you a decluttering checklist; we step in to help you take charge of your home, and get rid of all the clutter and chaos.
Decluttering meaning
But, before we get too far into talking about what our service is, we need to talk about the problem it solves for you.
According to the dictionary, decluttering means, "To remove mess or clutter from a place. Or, to organize and prioritize one's commitments, material possessions, etc."
If you are like so many people we've met right here in the Quad Cities, you may have found yourself asking questions, such as the following:
How can I declutter my home fast?
Where can I get some decluttering inspiration?
What are some decluttering tips for my home?
How can I go about decluttering clothes?
What is the best way to declutter my bedroom closet?
How do I go about decluttering my bedroom?
Whatever your questions are, if you're ready to get your own decluttering plan, and learn how to take back your home and your life, then we are ready to help you do it now!
» Call 563-449-2855 to get started
Why decluttering?
Are you feeling overwhelmed with all the stuff in your house? Don't worry if you do; you aren't alone.
Everyone is affected by clutter in different ways, of course. Often times the frustration of your home being in disarray can manifest much like any type of stress can.
So, if you're feeling the effects from not having enough room, poor or improper systems, or even people in your home not helping you keep the clutter down, we can help.
We're professional organizers who specialize in helping people feel less overwhelmed with their life or belongings.
After working with us for a while, you will begin to feel lighter and more relaxed, knowing that order has been established in your home. We will work together to create a system that will work for you more efficiently, while making it easier on you to keep the order in your home.
We will help you convert your disorganized, chaotic home into a one that is organized, functional and a joy to be in again. We are professional organizers in the Quad Cities who provide both home organizing and small business organizing.
What to expect
You can probably remember when your house felt like it had plenty of room. Less furniture, fewer things and many years ago. Today, is different, though. There's been a lot of life in your home since the early days.
We can help you recapture some of that space and simplicity. Our professional organizers will begin decluttering your home and start the process of removing all of that stress from your life. By removing items you no longer need or use, you can create the peace and calm of your home. Not to mention, you'll be able to feel proud of your home and feel like you can welcome friends again.
By working with us, you'll make a long-term investment in your health and well-being. You'll learn a system that is designed just for you and easily used daily to keep your home neat and organized.
» Call 563-449-2855 to get started

Home Transition Solutions Group can do nearly any size decluttering project. 
Organizing a hall closet, bedroom or office

Getting a home ready to sell or ready to move

Getting ready for or just after a home remodeling project

Taking back spaces in your home that clutter has taken over

Reworking closets or other storage areas

Getting a seasonal/rental homes for renters or family

Creating rooms for relaxation or meditation
What happens with organization
When you organize your home, you can have a big impact on your own life. More than just the stress reduction we mentioned earlier; much more. You can free your mind and improve your clarity and cognitive functioning. The new healthy habits you can learn will help your creativity, as well as have an affect on your outlook and health.
Having rooms that inspire you will allow you to do what you do better and with more ease. You'll feel like your home has much more space to live in. And, in the process of decluttering, you'll likely discover long-forgotten treasures from your past.
If you want to declutter fast, recover the space in your home and simplify your life, contact us today.